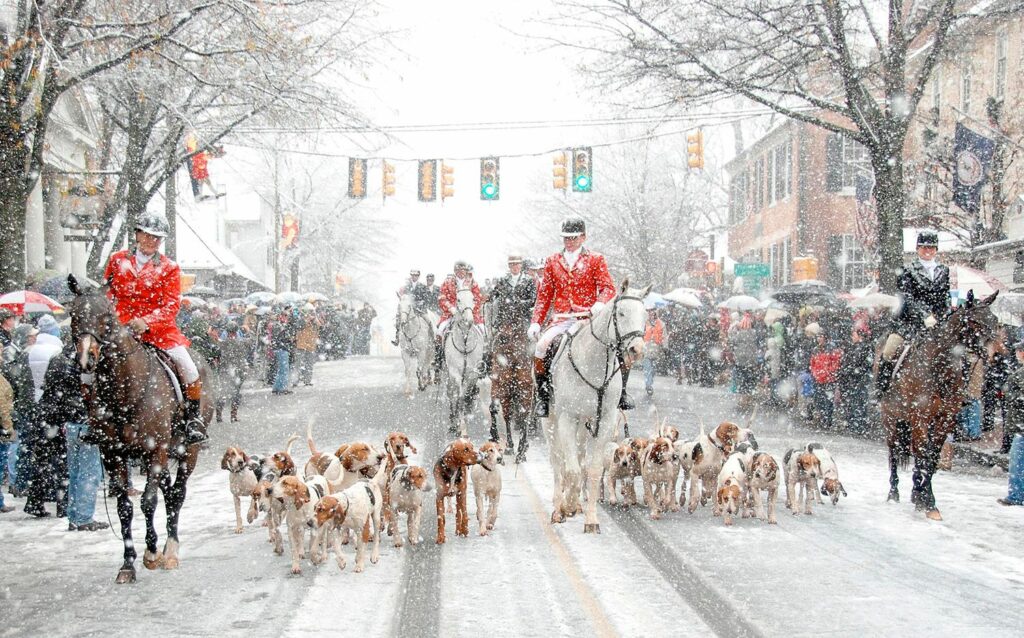 Bull Run Festival of Lights – Centreville, VA November 11, 2022, through January 8, 2023.
A popular family tradition and activity for young and old as you drive through the sparkling 2.5-mile route lined with fun holiday and magnificent light displays. After your drive through the lights, stop by the Holiday Village to check out carnival rides, have some snacks, and take photos with Santa Claus.
Meadowlark's Winter Walk of Lights – Vienna, VA November 11, 2022, through January 8, 2023.
A half-mile walk through elegant Meadowlark Botanical Gardens which features thousands of sparkling lights highlighting nature themes and animated displays. The paved wheelchair and stroller-accessible trail has been illuminating the gardens for the 11 years and serves as many as 110,000 visitors each year.
Christmas in Middleburg – Middleburg, VA December 3-4, 2022
A two-day event taking place in the charming town of Middleburg, Virginia. The kick-off to the holiday season on Saturday 3 December features a Christmas Viewing Parade with mounted fox hunt riders and their hounds, traditional floats, and bands. Musical performances, ornament decorating, craft fairs and shopping, caroling, and special food and spirits tastings are happening throughout the town. The parade is a huge draw for many out-of-towners who enjoy the small-town atmosphere to begin the holiday season.
Reston Holiday Parade – Reston Town Center, VA November 25, 2022
Reston Town Center's annual holiday parade and tree lighting is set to take place on Friday 25 November beginning at 11:00 AM. The parade usually lasts about an hour and features large, inflated characters, school and community groups, high school bands and—of course—the entry of Santa and Mrs. Claus in a horse-drawn sleigh!
Alexandria's "Biggest Holiday Weekend" – Old Town Alexandria December 3, 2022
51st Annual Scottish Christmas Walk Parade – Founded by Scottish merchants in 1749, the city celebrates its heritage with the iconic Alexandria Scottish Christmas Walk Parade. You will watch as dozens of Scottish clans' parade through the streets of Old Town dressed in colorful tartans and joined by pipe and drum bands from around the region. The parade begins at 11:00 AM.
22nd Annual Holiday Boat Parade of Lights – The historic waterfront with sparkle with more than fifty brightly lit boats as they cruise along a one-mile of the Potomac shoreline, beginning at 5:30 P.M.
Stroll down historic King Street and enjoy a real-life Dickens Village atmosphere, dine in cozy Alexandria restaurants, and walk through the many boutiques to soak up the holiday magic and start your holiday shopping.
Old Town Manassas Christmas Market and Holiday Craft Show – Manassas Museum Lawn, November 26, 2022
Get started on that holiday shopping list at the annual Christmas Market and Craft Show. Visit over seventy artisans, crafters, independent consultants, and local businesses, and check out the unique, handmade jewelry, bath and body products, candles, and home décor. Festivities begin at 10:00 AM and continue until 3:00 PM.
Manassas Tree Lighting and Merry Old Town Christmas Parade – December 2-3, 2022. The Tree Lighting ceremony starts off the weekend on Friday evening at 6:00 PM, with musical performances and the arrival of Santa Claus. The Christmas Parade will be held Saturday, December 3, beginning at 10:00 AM. Enjoy ice skating at The Harris Pavilion Ice Rink, or shopping in Historic Downtown Manassas throughout the holiday season.
National Christmas Tree Lighting – On the Ellipse in President's Park, November 30, 2022.
The ceremony is a beloved tradition dating back to Christmas Eve 1923 when President Calvin Coolidge lit the first National Christmas Tree. The National Christmas Tree area is open to the public beginning December 2through December 30. Visitors are invited to view the National Christmas Tree, along with surrounding trees honoring the states, territories, and the District of Columbia. For more information visit: www.thenationaltree.org
The Smithsonian's National Zoo – ZooLights 2022
ZooLights is a free event held at the National Zoo beginning after Thanksgiving. This year's kick-off lighting will be held on Friday November 25. Visitors are welcome to view the magnificent lights from 5:00 – 9:00 PM every Friday, Saturday, and Sunday through December 30, 2022. The event will have live musical performances, winter treats and numerous opportunities for people to begin holiday shopping. For more information on free access passes and parking fees visit: www.nationalzoo.si.edu
To read our blog on Christmas Tree Farms in Northern Virginia, click here: https://ricepropertiesgroup.com/community-lifestyle/christmas-tree-farms-in-northern-virginia/