Are you ready to buy or sell a home? Read below to learn from some of the most common questions we get from clients when buying and selling real estate
Your very first step in your home purchase is to get pre-approved by a lender. Pre-approval will let you know how much you can afford so that you can look at homes in your price range. If you do not have a lender you know and trust, we suggest you contact a Realtor first, who should be able to provide multiple referrals to local banks. The pre-approval process does not bind to using the services of any particular lender, but is a good stepping stone toward understanding your home purchase options.
How long will it take to buy a home?
Once you go under contract on a home, the right lender should be able to close your loan within 30-45 days from the day it begins processing. A quick turnaround on a loan is very important to most sellers – so the lender you choose to work with plays a critical role in your home purchase. Working with a local lender is often a big plus, so long as they are communicative, knowledgeable about the local market, and can give you a competitive rate. 
How much will it cost to buy a home?
Unless you are paying upfront in cash, you will likely obtain a loan for your home purchase to be paid over a fixed period, usually 15 or 30 years. The "big" one-time costs at settlement are your down payment and your closing costs.
Depending on what terms you qualify for on your loan, your down payment can be as little as 3% of the purchase price. If you are a veteran or active service member, you can even qualify for 100% financing through the VA.
Your closing costs are lender and third-party fees that are paid when you purchase the home. Closing costs typically run between 2%-5% of the total purchase price. They cover items such as lender fees, real estate transfer taxes, title insurance, among others.
How many homes should I look at before making an offer?
This question depends entirely on the individual buyer. Some buyers look at a single listing and know that it's "The One." Other buyers will view dozens of listings before finding the right home. In the age of the internet, much of the buying process can take place online. While it's still advisable to view a property in person before making an offer, buyers can now view hundreds of prospective properties online before going out to show a home.
Rice Properties Group conducts an in-depth consultation with our clients to discover your motivation for purchasing a home. That way, we can help you make a decision quickly and confidently once you're ready to start viewing properties.
What do I pay my Realtor for helping me find a home?
As a buyer, you do not pay your Realtor a commission for their services. The seller pays the real estate commission of both the listing agent and the buyer's agent. This payment is only earned once you close on your home.
In fact, choosing not to work with a Realtor could end up costing you much more than you think. Your Realtor should be an experienced professional with a deep understanding of the real estate market. Their negotiation skills and industry knowledge will save you time, money, and a lot of stress when it comes to navigating the homebuyer process.
How will I know if I am pricing my home correctly?
With Rice Properties Group, you will be counseled and guided through the process of  pricing your home correctly and competitively. We will present you with a thorough Comparative Market Analysis (CMA) during your listing appointment, where we evaluate criteria similar to your home, such as above ground finished square footage, number of bedrooms and bathrooms, lot size, and subdivision. We will present you with a sellers' estimated cost of settlement, so you can understand what your approximate net proceeds will be based on several pricing scenarios. We have a proven record of not only getting top dollar for homes but also in the shortest time possible.
We have never sold a home before. Will you be assisting us along the way?
Rice Properties Group is a full service real estate team, so we will be hands on from the beginning.  We pride ourselves on clear, concise, and frequent communication throughout the home selling process. From advising you on how to prep your home for the photo shoot and showings, to negotiating the best offer, to getting you to the settlement table and beyond, we are just a text, phone call, or email away. We get ahead of any scenarios that may cause you, the seller, unnecessary anxiety, and handle them behind the scenes so as not to add any extra burdens to an already stressful process. Our past clients will often state that RPG made the process of selling their home easy!
My home needs some cosmetic work before listing it for sale. How do I know what I should spend my money on to get top dollar?
A Rice Properties Group agent will tour your home and make suggestions on what should be repaired or updated prior to listing, and what projects are not necessary, based on market conditions and buyer needs. We have a list of preferred vendors that can help you finish the repairs or updates on budget.
How will you market my home?
Rice Properties Group is one of just a few teams that has an in-house media specialist, so we are able to produce amazing photos, videos, and social media posts. We will hold a photo and video shoot a few days prior to hitting the market and will add them to the listing in the Multiple Listing Service. As soon as the listing goes "Live", the listing will generate out to multiple real estate platforms, including Zillow, Redfin, and Realtor.com. We also produce top quality video walkthroughs of your home that we publish on Facebook, Instagram, and YouTube. As well as our website. We also cold call neighbors, door knock the neighborhood with flyers, host community only open houses, and host at least one (usually more!) public open houses.
Will you be hosting an Open House at my home?
Rice Properties Group typically suggests that hosting at least 1-2 Open Houses during the first weekend your home is "Live" is highly recommended. While "nosy neighbors" may be annoying, those neighbors have friends and family that are interested in moving into the neighborhood and are a great resource for potential buyers. We have also hosted Friday evening Open Houses and Community Only Open Houses to promote the new listing prior to the weekend. We had great success getting our listing sold during the first weekend, and many of the buyers came through the Open House. However, if you chose not to have an Open House at your home, that is perfectly acceptable as well. All plans for hosting an Open House at your home will be thoroughly discussed with you prior to scheduling.
How long will it take to sell my home?
This is a tricky question, as there are many different factors to consider. For example: 
Is your home priced right? Rice Properties Group will assist you in pricing your home competitively so that it sells in the least amount of days.
Is it a sellers market? Rice Properties Group will discuss the type of market we are currently in and what to expect. We don't sugar coat the facts, but rather are transparent on how quickly we believe your home will sell based on many years of experience.
Has your home been updated to meet the needs of today's buyers? Many buyers expect that at least some of the major updates have been performed on the home, such as a newer roof, HVAC, and/or hot water heater. Kitchen and bathroom renovations are also in high demand. However, there are still plenty of buyers looking for a home that still needs updates. As long as it is priced right, it will sell quickly.
Can I call some of your past clients for a reference?
Absolutely! We have plenty of former clients that would be delighted to discuss how RPG assisted them throughout the process of selling their home!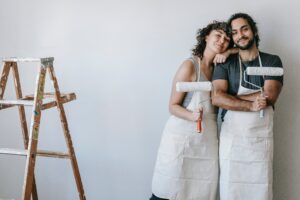 As the colder and drearier days of winter start settling in, homeowners will often start spending more time in their homes. This is also the time that they start realizing that their home is in dire  need of some TLC to spruce it up, especially if they want to sell in the spring. As a homeowner, you might be thinking that you'll wait until the spring to start making improvements to your home – but wait! There are plenty of projects you can take on in the winter months as well! We did the research for you, and have come up with a list of suggestions.
Read More »