Are you in search of a fun and exciting weekend getaway? Or perhaps you want a day of pampering and relaxation. Here are some of RPG's top picks within the Northern Virginia area, or a short driving distance away from the hustle and bustle of the city.
Lansdowne Resort and Spa
Leesburg, Virginia 20176
Discover the good life of a Northern Virginia luxury when you plan your get-a-way at Lansdown Resort and Spa. Lansdown is the ultimate sanctuary of sophistication and renewal, inspired by the good life of Virginia Wine Country and a refreshing Virginia golf resort and spa near Washington D.C—but far from city life. Come and live in the moment, leave your distractions behind, and enjoy all the down-to-earth hospitality that Virginia is famous for. Located near Dulles International Airport, the resort is the ideal destination for weddings, honeymoons, or just a romantic vacation with someone special.
Lansdown Resort is a sanctuary for golfers, a retreat for productive executive meetings, and the perfect couples or family escape. The luxury resort's beautiful natural setting in Leesburg, Virginia, sprawls nearly 500 acres along the Potomac River. Stay in one of the 296 guestrooms or suites and experience ultimate comfort and magnificent views. You will connect to nature, history, exquisite dining, and a healthy, active lifestyle, leaving inspired with a new sense of purpose and perspective.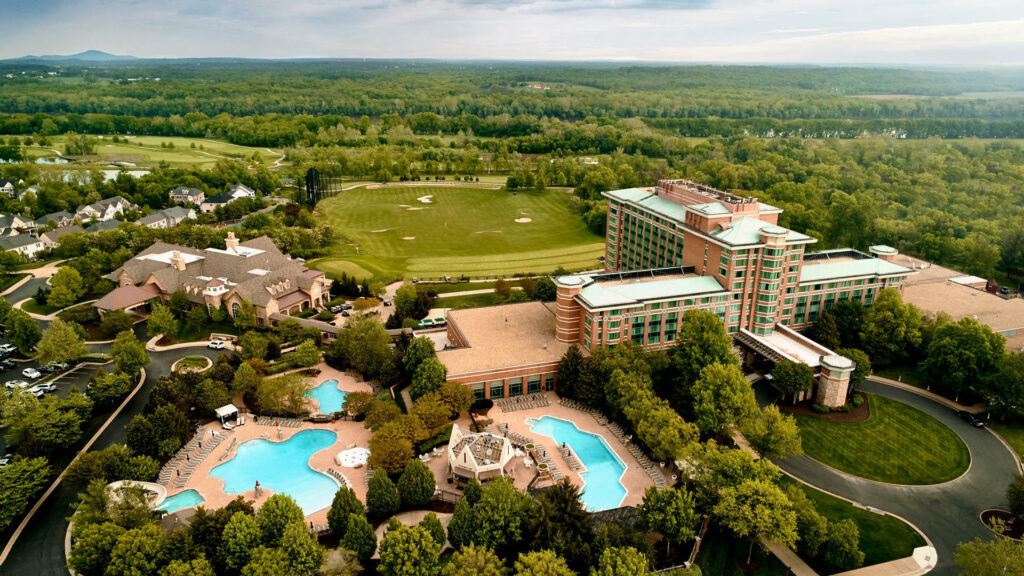 Soak in the beautiful setting in this spectacular property and AAA Four-Diamond award-winning golf course designed by Greg Norman and Robert Trent Jones, Jr. Enjoy The Club at Lansdown—the centerpiece for 45-holes of championship golf, Spa Mineral—a world-class destination spa, water adventures on the Potomac River, and the resort's restaurants or outdoor poolside bar. There are many daily activities and amenities offered throughout the year, along with outdoor tennis, horseshoes, volleyball, indoor pool, concierge and babysitting services, a business center, dry cleaning/laundry services, and a 24-hour front desk.
For detailed information and reservations, visit the website at: www.lansdowneresort.com
Salamander Resort & Spa
Middleburg, Virginia 20117
Nestled in the foothills of the Blue Ridge Mountains and set on 340 acres in Virginia's famed horse and wine country is the Salamander Resort & Spa. The Forbs Five-Star resort is found in the charming and historic small town of Middleburg, Virginia and features luxurious 168 guestrooms and suites all with scenic views of the countryside.
The 23,000-square foot nature-inspired spa is truly dedicated to health and wellness, with its 14 treatment rooms and a secluded outdoor courtyard with heated pool and cabanas. The spa offers private stone, massage therapy, facials, body treatments with holistic and result-driven therapies, stunning aromatic steam rooms and plush changing areas.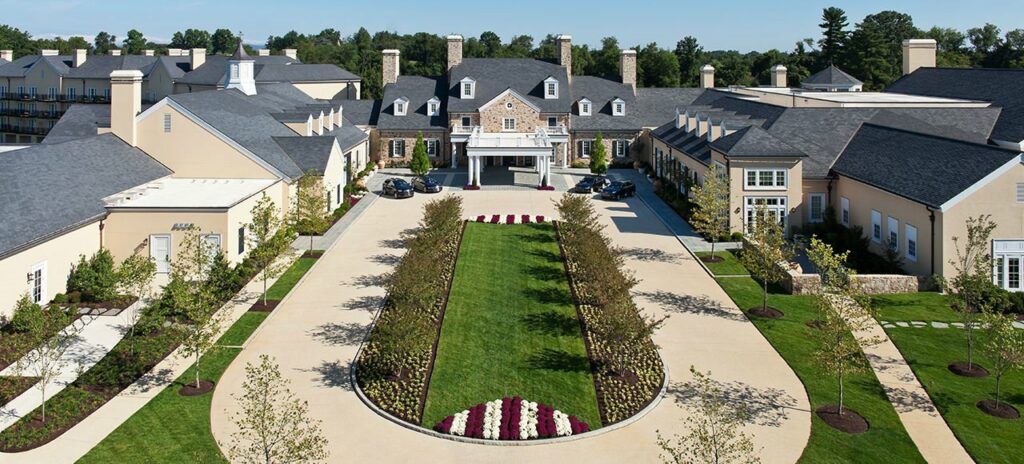 The Salamander has built one of the finest equestrian facilities in the country with 25 on-site acres for riding, and a 14,000 square-foot stable. Family friendly activities on the property include indoor and outdoor pools, zip lining, tennis court, nature hikes, archery, billiards room, complimentary putting green and lawn games.
To satisfy your culinary experience, enjoy the rustic Harrimans Virginia Piedmont Grill featuring a local bounty of bold and flavorful dishes of butcher's cuts, fresh seafood, and imaginative desserts. Harrimans boasts a multi-experienced cooking studio where guests can participate and watch as a meal is prepared at the Cooking Studio counter. The Gold Cup Wine Bar is a relaxing venue for cocktails and delicious menu options for either lunch or dinner, featuring the best of Virginia's wines, signature cocktails and much more. Top off the evening with a specialty cocktail in the Living Room or venture out to the fire pits.
Consider a visit to the Market Salamander, a gourmet marked located in the village of Middleburg and just a short walk from Salamander Resort. Enjoy an indulgent breakfast or lunch at the café or outdoor patio or select from the selection of grab-and-go items.
For detailed information and reservations, visit the website at: www.salamanderresort.com
Airlie Resort & Conference Center
Warrenton, Virginia 20187
Airlie Resort's setting is the idyllic countryside of Warrenton, Virginia. The state-of-the-art conference and meeting facilities are set into 300 rolling acres of scenic farmland in this Northern Virginia community. Airlie offers and array of accommodations across seven landmark buildings, highlighting the beautiful views from a serene village setting in the Warrenton countryside. The property is designated as one of the Historic Hotels of American with its guestrooms and cottage displaying total comfort and charm rooted in true Virginian hospitality.
Plan your next executive or team meeting at the conference facilities. Airlie offers professional meetings and conference support, a full suite of state-of-the-art technology, top-class amenities, and unique group spaces.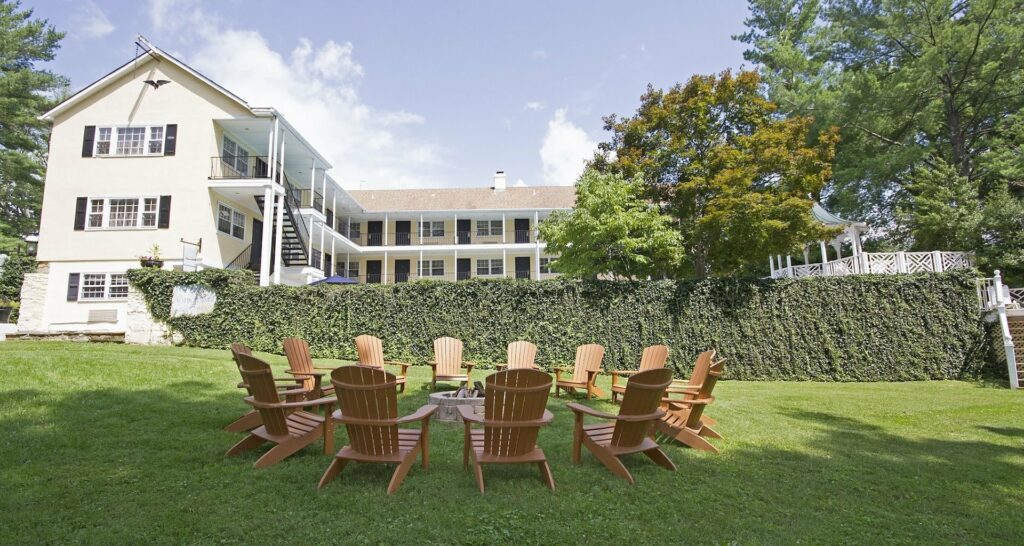 Airlie is widely known for hosting timeless weddings in their historic hotel, fit to accommodate intimate weddings and romantic getaways. The hotel can host weddings with up to 280 guests and some of your guests may stay in the inviting and luxurious guestrooms.
Treat yourself to true Northern Virginia "pasture-to-plate" dining at Airlie. Seasonal produce comes right from the soil, and the freshest cuts of beef and pork come direct from their pastures. Chefs work closely with the production farm team to craft dishes that highlight fresh flavors and ingredients, so you can savor each meal.
Choose from a variety of options for outdoor and indoor activities, from low-key relaxation, high-energy exercises to total mind and body wellness. Enjoy exploring the grounds on bicycles or relax in the swimming pool. Take advantage of the fitness center, yoga classes, the game room, archery, tennis court, volleyball court, and the fire pits during your evening down time.
For details and reservations visit the website at: www.airlie.com
The Red Fox Inn & Tavern
Middleburg, Virginia 20117
Viewed as the pillar of the treasured Middleburg village, The Red Fox Inn & Tavern has been a jewel of Virginia's Hunt Country since 1728. The inn is an exceptional relic to times gone by, where modern touches and classic Virginia character fuse flawlessly to create this extraordinary establishment.
Plan your romantic retreat, social or corporate event at the inn. Watch a steeplechase or polo match, visit a local winery, explore historic sites nearby, or walk through the shops in downtown Middleburg. The Red Fox Inn hosts five unique buildings for events, and the 22 inn guestrooms, suites & cottages showcase their own individual charm.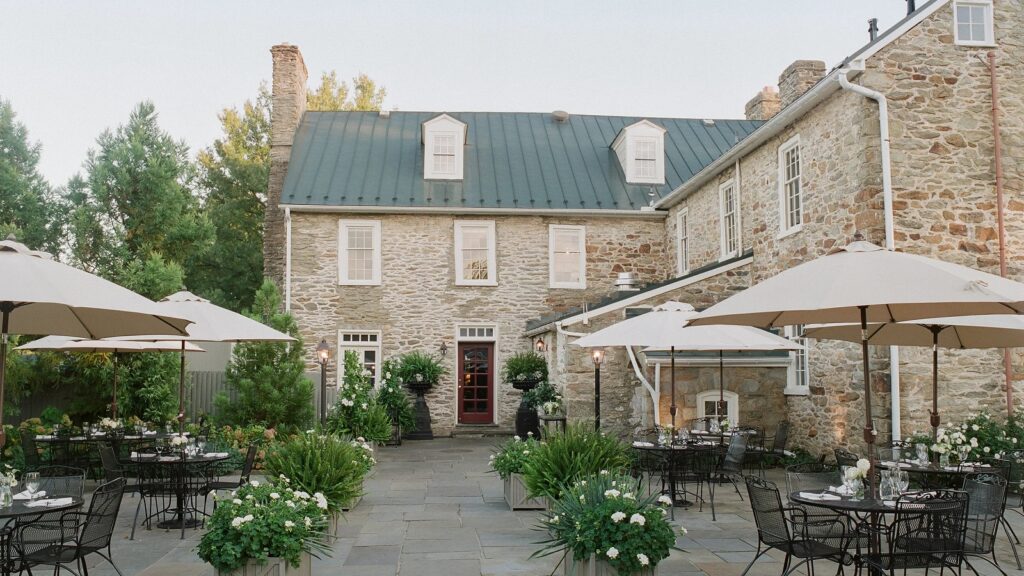 Enjoy a four-course dinner at The Tavern where the culinary team is dedicated to sourcing and preparing fresh ingredients that will feature unique game and seafood dishes. A showcase of vast wine selection from local Virginia wineries can be pared with your meal, as well as national and international favorites. Stop in at The Night Fox Pub where the unique atmosphere and hand-crafted cocktails will compliment your evening.
Visit the website at: www.redfox.com for additional information and reservations.
The Iris Inn
Waynesboro, Virginia 22980
The Iris Inn is a newly renovated 5-star luxury Inn, Cabins, and Cottages. It is described as "unmatched beauty, awe-inspiring, and breathtaking views" in the romance of the Shenandoah Valley. Its 19 acres nestled in the gorgeous Blue Ridge Mountains is a couples' getaway. Each room, private cottage, and luxury cabin is designed and equipped to help you enjoy a quiet, restful getaway from the hustle and bustle of social life.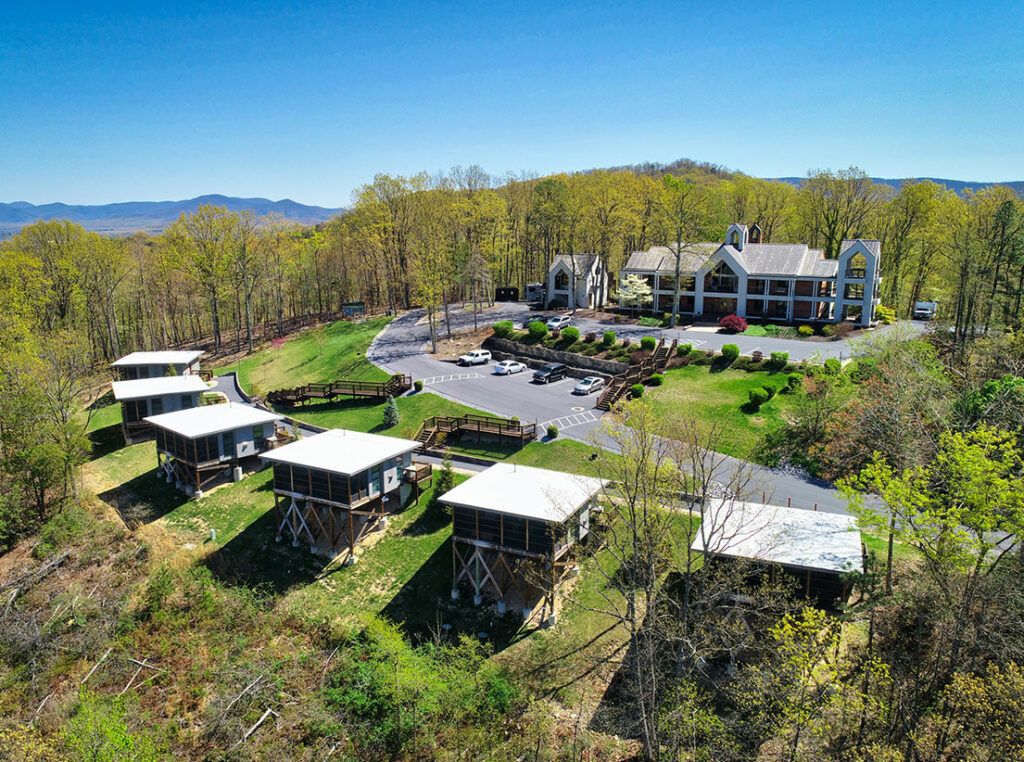 The Iris Inn is ideally located within minutes of many upscale wineries, local restaurants, historical tours of presidential homes, shopping, fly fishing, apple picking, and 500 miles of hiking trails. The property sits between two most popular attractions—the Blue Ridge Parkway and Skyline Drive where you can experience the most scenic hikes such as Humpback Rock and Crabtree Falls. There is easy access to the surrounding metropolitan areas of Charlottesville, Staunton, and Waynesboro.
Visit the website at: www.irisinn.com to plan your next getaway.
The Omni Homestead Resort
Hot Springs, Virginia 24445
The Omni Homestead Resort is a premier destination and luxury resort in the middle of the Allegheny Mountains. The resort stretches more than 2,000 green acres in the charming village of Hot Springs, Virginia—only a few short hours from D.C. It is a year-round destination, but the atmosphere is especially memorable during the warmer months. Luxurious rooms, studios, and executive suites are available to help you relax in true Southern hospitality.
Many families have returned to the resort for generations to enjoy days of hiking and biking in the mountains, horseback riding, archery or fly-fishing, zip lining, kayaking, or swimming in the spring-fed pools. Weekly firework displays are held during the summer months.
The Omni Homestead Resort offers some of the country's most challenging and historic fairways. Practice your swing on a driving range before heading to one of the two historic golf courses. The championship courses allow you to perfect your game while basking in the serenity of the beautiful landscape.
Treat your mind, body, and senses to a rejuvenating experience in the award-winning spa to the full-service fitness center and all-natural mineral springs and sparkling pools—all designed to re-energize you.
The Omni Homestead will tempt your taste buds with delicious cuisine served in formal and casual restaurants, such as. The Jefferson's Restaurant, The Jefferson's Taproom, Woody's, Kober's at the Mountain Lodge, Rubino's at the Cascades, Martha's Market, and the Lobby Bar.
Visit the website at: www.omnihotels.com/hotels/homestead-virginia for detailed information and reservations.
The Inn at Willow Grove
Orange, Virginia 22960
The Inn at Willow Grove sets in the lush and scenic landscapes of Virginia Wine Country. As you step through the inn's front door, you will experience the timeless elegance and charm of a beautifully restored 1770's historic house with modern luxuries. The are 10 boutique rooms, 10 luxury suites, and 5 premier suites and cottages. No two rooms are the same and each has been individually furnished and decorated to offer completely unique experience. However you wish to spend your time, you will escape, unwind, and indulge at the inn.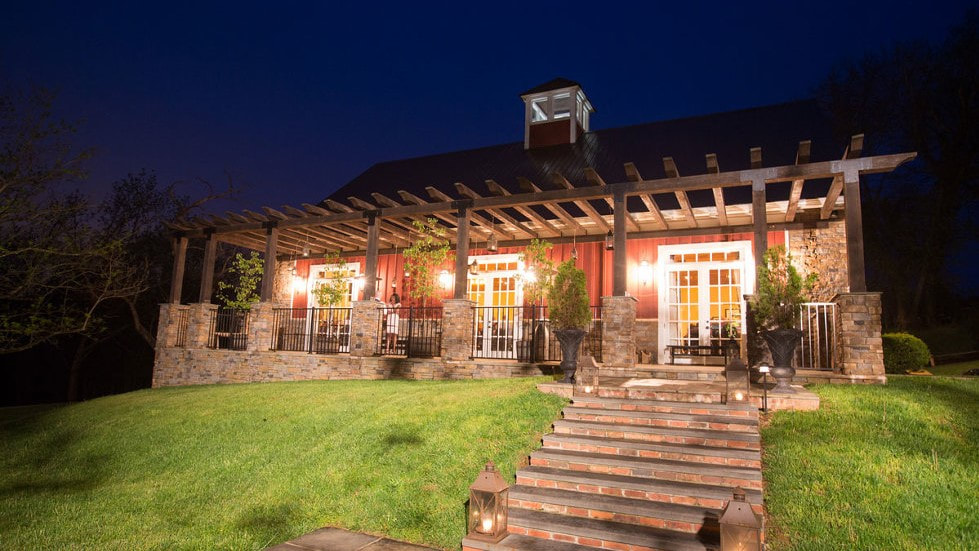 The all-new Mill House Spa redefines perceptions of spa hotels in Virginia. Escape to a 3,000-square-foot luxury oasis at the all-new Mill House Spa featuring three tranquil treatment rooms, a relaxation room, and the new private couple's suite. Spa guests will be drawn to the stunning "urban meets rustic décor" and design accents, and will enjoy a beautiful, heated saltwater pool. Every turn of the wheel at The Mill House Spa will leave you relaxed, restored, and renewed.
Bring your day to a close with dinner at the Vintage Restaurant & Pub which features regional American cuisine with menus that change regularly to showcase the freshest flavors of the seasons.
Celebrations of all kinds are perfectly suited to The Inn at Willow Grove. The wide range of dining and entertaining spaces will accommodate groups large or small, elegant, or rustic, romantic, or a fun escape!
Visit the website at: www.innatwillowgrove.com for details on reservations and additional information.