Owner and Managing Partner of Rice Properties Group Lindsay Rice has played an instrumental role in helping us grow to become one of the nation's top real estate teams and, more importantly, one of the most trusted real estate companies in the DMV.
Lindsay's learning based nature and leadership experience brings tremendous value to our RPG team. As both our owner and Managing Partner, Lindsay is responsible for setting strategic goals and objectives, driving business growth, monitoring performance, and supervising daily business operations.
Lindsay's a firm believer that the success of a business relies on its people. That's why she's committed to finding innovative solutions to the problems our community faces today, and leveraging the skills and expertise of our team to ensure everyone's in the right seats so we can better grow and serve our clients in the future.
As someone who's highly passionate about entrepreneurship and building successful businesses, Lindsay's currently working hard to build Rice's newest arm of their real estate business that educates clients on the vast number of unique options available to them in today's real estate market, by offering custom-tailored real estate solutions that solve their problems when buying, selling, and leasing real estate.
Lindsay's entrepreneurial journey hasn't always been easy as a mom and a female visionary with big dreams for the future. Having experienced multiple health challenges early in her career kickstarter Lindsay's journey to master key life disciplines to create a balanced lifestyle that enables her to live her life by design.
Today, Lindsay's on a mission to help others master those same key life disciplines (spiritual, self, physical, time, money, and growth) so they can live a more balanced and abundant life too. Lindsay believes that health is the real wealth, and she's passionate about helping connect people with where they want to be in life.
When she's not working, Lindsay can be found spending quality time and traveling to tropical destinations with her loving husband Ryan and her beautiful daughter Rylea. Lindsay enjoys learning and being pushed outside of her comfort zone.
Whether that means learning to biohack her health, training for her first fitness competition, reading and learning about business and self-improvement, or simply taking time to be still and sit in the silence—Lindsay is continually growing and working to create a balanced, more holistic life for herself and others.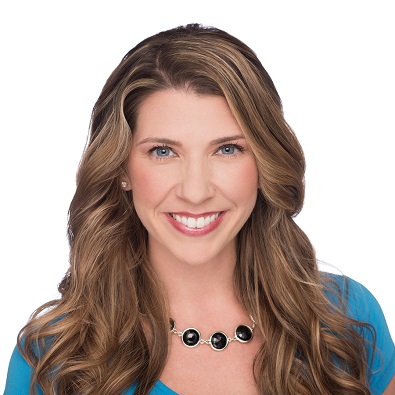 Full Spotlight Article: Lindsay Rice (Owner and Managing Partner Of RPG)
Meet Lindsay Rice, our Managing Partner at Rice Properties Group (RPG). Lindsay has played an instrumental role in helping us grow to become one of the top real estate teams in the country.
As a female entrepreneur and visionary, Lindsay's innovation and passion for building strong businesses, as well as her ability to set strategic business goals and objectives, drive business growth, monitor performance, and leverage the strengths of our team to ensure everyone's in the right seats, has helped Rice Properties Group grow and serve our community better.
Since Lindsay is often behind the scenes working on our business instead of in it, we want to allow you to get to know this vital part of our RPG family a little more. So today, we're putting her in the spotlight and sharing her story.
The Making Of An Entrepreneur
Lindsay Rice once heard someone say that "you can't be outrageously generous if you're broke."
Over the years, Lindsay's view on money has changed a lot. While she never saw money as something that could buy her happiness in life, Lindsay viewed it as a vehicle that could provide her with the lifestyle and financial freedom she both desired and felt was needed in order to become outrageously generous with her time and giving.
In search of fulfilling this dream of outrageous generosity, Lindsay decided to pursue her college degree in business. After graduating from college, Lindsay climbed her way up the corporate ladder of an IT company, where she gained experience in customer service, sales, and project management. It was also there that she met and fell in love with her co-worker Ryan Rice.
After several years of dating, Ryan and Lindsay got engaged in 2009. The following year, Ryan got recruited to join a local real estate team, which was a career shift that came with many risks, including the fact that it was a 100% commission-based business in a highly competitive career field with an 87% failure rate. That also meant that Lindsay would need to provide a stable income for them in the interim since the couple was planning a wedding and buying their first home together. But thankfully, Lindsay, who's usually risk-averse, believed in Ryan and supported him all the way.
"I tend to be more risk-averse than Ryan is. But for me, when things are planned and well calculated, it doesn't feel like much of a risk. I knew Ryan was great with people and sales, and I believed that he could and would succeed in whatever he chose to do." Lindsay shared about her husband's decision to go all-in on real estate
Finding Her Place In Real Estate And Building Rice Properties Group
Watching Ryan find success in real estate was enough to pique Lindsay's interest in the industry and reignite her entrepreneurial dreams…
After learning she was pregnant with their first child in 2014, Lindsay decided it was time to make a bold move and pursue a career in real estate alongside Ryan, whose business had grown to the point that he needed to build a team.
With a new dream in her heart and a brand new "why" in her belly, Lindsay began diving into real estate head first, learning everything she could about it. That first year she worked part-time with Ryan, studied and earned her real estate license, and maintained her full-time job at the IT company. And the following year, after their daughter Rylea was born, Lindsay and Ryan decided it was time for her to quit her job and go all-in on building Rice Properties Group.
Lindsay and Ryan grew a lot in their first two years working together. And while they encountered challenges and growing pains along the way, they quickly realized that their unique differences and skill sets were precisely what made them the perfect partners in life and business.
As with every entrepreneurial journey, Lindsay's journey in building the business of her dreams wasn't without its challenges…
One of the hurdles Lindsay faced early in the process was leaving the security of her IT career and the W2 salary it provided. While she had seen how real estate could provide for their family, there was a mental block that Lindsay had to break through first. And to do that it would take a little bit of knowledge, some intuition, and a whole lot of faith and prayer for her to finally take that leap of faith.
Reading self-help books like Find Your Why by Simon Sinek and The Millionaire Real Estate Agent by Gary Keller, helped to prepare Lindsay in making the massive mindset shift that's required to succeed as an entrepreneur in real estate. But, she shares that it was while on a Babymoon vacation in the Caribbean with Ryan, that everything clicked into place for her. With the intuition that the timing was right, Lindsay decided to step out on faith and give her notice so she could go all in on their real estate business. And she hasn't looked back since.
After going all in on their business, Lindsay had to find out how real estate best fit into her dreams for the future. While she enjoyed helping people find their dream homes, it wasn't her ultimate passion. She discovered that she loved the visionary's role as an entrepreneur, which required more behind-the-scenes work on building the big strategic picture, finding and scoping out new growth opportunities, and leveraging the proven systems and models that yield success. And thankfully, Ryan's incredible ability to lead their team and build authentic relationships in the community, balanced their partnership perfectly.
With that said, one of the most significant challenges Lindsay faced in pursuing her aspiration of entrepreneurship was finding balance.
It didn't take long for Lindsay's worlds to clash as a new mom and a highly driven female visionary. And since Lindsay was unwilling to yield in either role, the long hours, lack of sleep, and exhaustion ultimately took a toll on her, and her health suffered because of it.
"While I was pursuing my aspiration of entrepreneurship, my health suffered. My many health issues led me on a journey to create a balanced lifestyle. That journey taught me that health is the real wealth. Without it, it's hard to live the life I was designed to live." —Lindsay Rice of Rice Properties Group opens up about health challenges while building her business. 
Lindsay refused to allow her many health battles to hold her back from her dreams which included being both the best mom and entrepreneur. After visiting numerous doctors and specialists, Lindsay realized that she had to take ownership of her health and wellness if she wanted to get better. This realization led her on a multi-year journey in learning to master key life disciplines that lead to a healthy life.
Today, Lindsay is highly passionate about living a holistic lifestyle and learning new ways to biohack her health. Her journey and the many health battles that she's faced have driven empathy and compassion for others experiencing the same. Her new life mission is to help others master the key life disciplines, which include spiritual, self, physical, time, money, and growth so that they can live a life of abundance, and in doing so, be motivated to help others do the same.
"I love being the connector of where people are and where they want to be in all of these aspects of their lives," Lindsay shared about her new life mission.
The Future Of Rice Properties Group
We asked Lindsay what she wants people to know about Rice Properties Group, and here's what she had to say: 
"We want our customers to know that Rice Properties Group is the authority in all things real estate and that not only are we smooth and easy to work with, we're knowledgeable and dependable. We do what we say and say what we mean. And what's exciting about this is we're now hearing these things from our community!  In the beginning, when you're building a business, you can tell yourself you are something, but once other people tell you that you're that, then it's a reality and becomes our brand. Now that our clients are writing in reviews and saying the same things we're trying to live up to as our mission and our "Rice" brand vision, that's what tells us that we're on the right track."  —Lindsay Rice, Owner and Managing Partner of Rice Properties Group shares.
The entire RPG team is committed to raising the bar. Even as they grow and open additional ancillary businesses in the future, they want their community of clients to know that their commitment to excellence will not waver.
We also asked Lindsay how things have changed in real estate since the pandemic, and she shared that more than ever before, she feels like the community needs us.
"The community needs information, support, and guidance. We're full service, and we go above and beyond to meet our clients where they're at. There are so many Realtors out there, but people feel lost right now. They need that voice of reason, and they need to know that the biggest investment of their lives is being handled right.  It's not about the transaction for us; it's not about the money—yes, money is important, it makes things go around, but the money comes when relationships get prioritized over transactions."
Growing RPG's Business and Team
When it comes to the day-to-day workplace, Lindsay often works in the background on growing the company by researching new opportunities, managing capital, building our structure, and leveraging people, processes, and systems to better help us maximize our efficiency.
While Ryan is mainly on the ground supporting the team, Lindsay shared that their RPG family is consistently at the top of her mind. We asked her if there's anything that she wishes her team knew about her, and here's what she shared:
"Ryan is definitely the warm and fuzzy team leader, while I'm way more introverted and can be more business and numbers focused. Sometimes that can come off in the business setting as being less warm. What people don't realize is just how much I think about our people. In the middle of the night, I'm thinking about is everyone doing good, are they happy and in the right seats? And what's the next thing that we're going to do to keep helping them move forward? I'm always looking out for their best interest and that of our company."
Rice Properties Group has experienced tremendous growth since its opening, and Lindsay shared that there are plans to continue to grow forward year over year. Part of this growth includes actively growing the RPG team in the future. We asked her what RPG's looking for in a new team member, and here's what she had to share:
"The world is seeking a different level of service these days. Now when people get good service, they're surprised, even though that's how it should be all the time when someone's spending money or going through something huge like selling a house. But it's not that easy to find new team members who care 'more'—more about our clients, our team, and our culture. The drive that we have at Rice Properties Group is to create a different next-level of service that will carry over across any industry we open a business in. There's a cost to the standard of service we expect to offer, and that means that not everyone will be a fit for RPG. But we're okay with that. We're looking to hire 10's across the board because our community and our clients deserve nothing less than that."
What "Home" Means To Lindsay Rice
We asked Lindsay to share what the word "home" means to her, and this is what she said:
"Right now, my daughter Rylea is 'home' for us. Wherever she is, that's home for us. When it comes to our physical home, I would say that home is a place where you can be yourself and feel safe—both emotionally and mentally. It's a place where you can relax, and you don't have to worry about what face you're wearing or who's listening."
Lindsay's Life Outside Of RPG
When Lindsay's not working, she can be found spending quality time with her loving husband Ryan and their beautiful daughter Rylea. They love traveling and watching Rylea experience life in new places. Over the past year alone, they've made time for eight family vacations and look forward to many, many more in the future.
Lindsay enjoys learning and being pushed outside of her comfort zone. Whether that means learning to biohack her health, training for her first fitness competition, reading and learning about business and self-improvement, or simply taking time to be still and sit in the silence or go to the spa—Lindsay is